3 Questions To Ask Yourself Before Hiring A Virtual Bookkeeper
Aug 28, 2023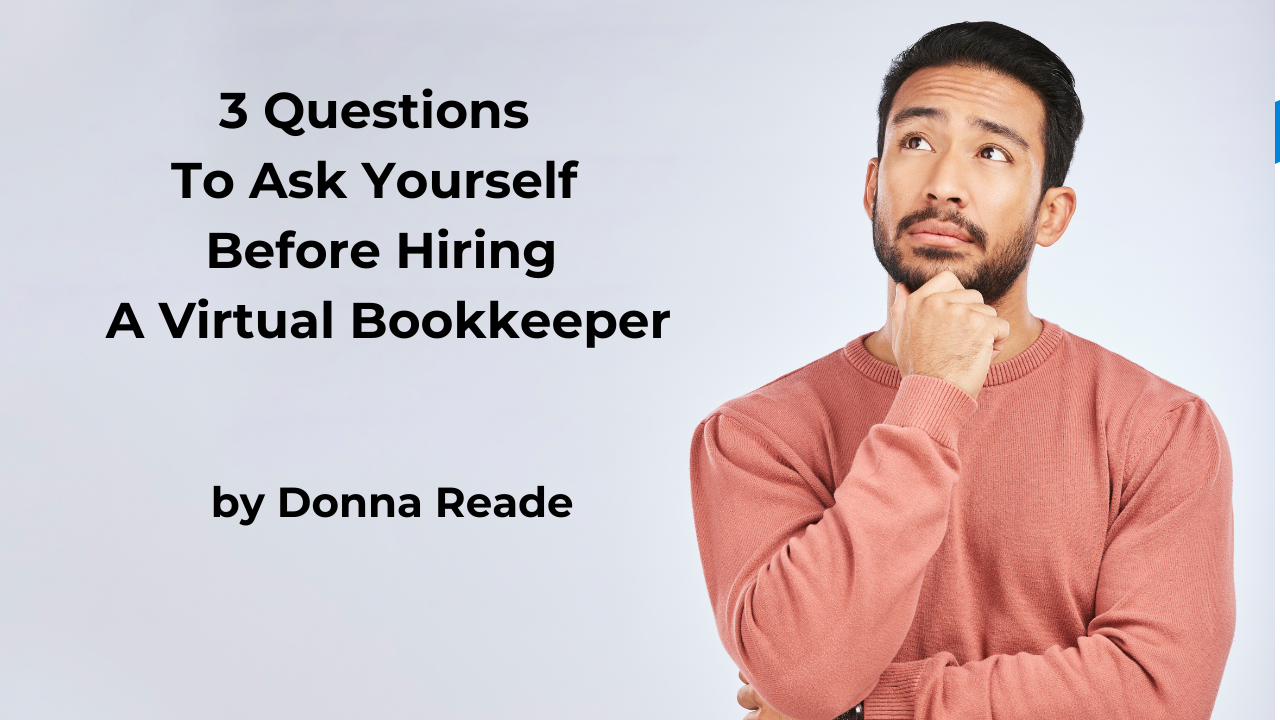 We know that managing a small business is no easy task, and managing the finances can sometimes be a headache.
Bookkeeping is definitely not the favorite task of most small business owners, but it is an important factor in the success or failure of the business.
Knowing where you stand at any instant gives you the information you need to make decisions that can help your business grow or prevent you from making a bad one that ends in failure.
How can a professional virtual bookkeeper benefit your small business?
A professional virtual bookkeeper understands how to properly log and categorize expenses.
Virtual bookkeepers are often very tech savvy and have knowledge beyond bookkeeping that can help you improve your business infrastructure too.
Successful business owners learn how to delegate tasks to the most qualified person, creating efficiency.
Too often they spread themselves thin and try to be everyone and everywhere in their company. This can lead to mistakes or overlooking things at key moments.
A professional virtual bookkeeper can take this one thing off their hands.
Experienced virtual bookkeepers will see little things a small business owner may overlook financially and alert them before it is too late.
Can you afford a professional virtual bookkeeper?
The cost of a professional virtual bookkeeper is probably the biggest obstacle for a lot of small businesses.
Most small businesses do not need a full-time bookkeeper. With technology and implementing proper processes, you can hire a virtual bookkeeper to help you keep your books up to date.
Rates vary greatly and a lot of times you get what you pay for.
Is financial software just as good as a professional virtual bookkeeper?
There are hundreds of accounting software systems to choose from and choosing and learning a new accounting system can be daunting.
You should find a Virtual Bookkeeper who specializes in the accounting software you are using. They will be more experienced in how the software works. More importantly they will know what does not work and the traps that people fall into when using the software.
Just like you would call a professional to fix the plumbing, paint and decorate, and do electrical or carpentry, so too a professional virtual bookkeeper uses their acquired knowledge, experience and expertise to get the job done efficiently and effectively.
When you started your business, we bet you didn't imagine a world of bank reconciliations, categorizing expenses/revenues, sales tax, payroll, paying bills, collecting invoices, merchant accounts...need we go on?
Just imagine how your world might change with your desk no longer cluttered with paperwork or long hours in the office after the shop closes trying to make sense of all your financial transactions.
You might even make it home before the sun sets!
Stay connected with news and updates!
Join our mailing list to receive the latest news and updates from our team.
Don't worry, your information will not be shared.
We hate SPAM. We will never sell your information, for any reason.